The HCI PhD's Guide to Choosing a Hat
HCI PhD students wear many hats — including design, engineering, data science, product management on top of research. It is a blessing and a curse. The interdisciplinary nature of HCI gives freedom to do innovative research, not limited by artificial boundaries of disciplines. But at the same time, when interacting with industry — regardless of just dabbling for summer internships or deciding for the non-academic career path — it can be very confusing.
Which hat do I want to wear from now on?
And how do I make that decision?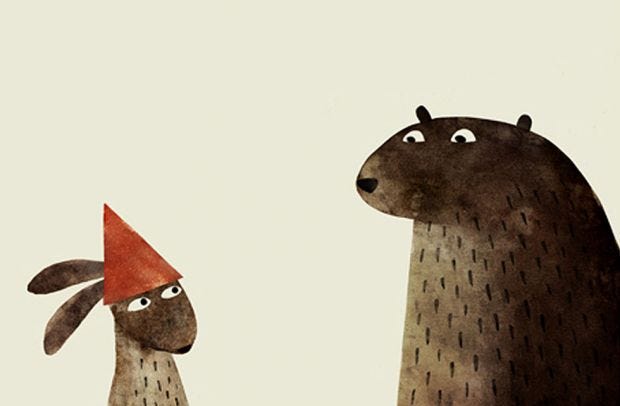 I Want My Hat Back, Book by Jon Klassen
I couldn't choose. So I tried them all. In my three internships, I tried qualitative UX, quantitive UX, data science/research. I ended up becoming an engineer and have been pretty happy in the role so far.
When I talk to friends, they often ask me about this decision. So here are my two cents to help anyone in similar situations to navigate. Hopefully you can find the hat that suits you the best.
What NOT to base your decision on
Let's start with the easy ones. Do NOT base your decision on what you can do or good at now. Do NOT limit your options by thinking to yourself that you don't have experience in a specific role. Compared to the entire career that lies in front of you (possibly decades long), the difference between having a few more years of experience prior or during PhD isn't that big. This is a time to try new things, and gain experience. Do NOT set boundaries for yourself.
Second, do NOT think that certain roles are harder than others. They all require different skill sets and there are very successful people at the top in each role.
Last, do NOT be intimidated to think that others will always be better than you in certain roles. Luckily, we don't have to be a genius in any of these roles to be successful. The skills and experiences in these types of roles are more learned than born with. If we are talking about arts, it's a different game. But for most tech roles, talent won't be a limiting factor at least couple more years down the road.
What I based my decision on
I don't feel I have enough information to recommend what you should base your decision on. Instead, let me tell you about my considerations.
I have a rule that when I make small decisions, I base them on analytics — I look at reviews when picking restaurants, hotels, or a certain model of tech gear to buy. When it comes to big decisions, though, I base them on visualization. If I close my eyes, and visualize what myself and my life would be like in five years, in each path, which one does my gut feel I would be most happy in?
Then it became clear to me that I don't want a path where when I look into the future, I can predict and see exactly what myself and my life would be like in five or ten years. (Side note — this made academic life a less exciting option for now.) For both qualitative and quantitive UX, I can see myself become reasonably good in the trade, maybe even leading a small team. Maybe I will teach on the side also at HCI departments in near by universities if that ever becomes a thing. But I can't see uncertainties. It is too clear-cut to me and I can see to the end of it. (To clarify I find UX extremely important and respect people in this role a great deal.)
For data science, I can see myself gaining more experience, again, maybe leading a small team, publishing papers and maybe contributing to open-source projects, teaching, etc. But there is this urge to change something about the world, to build something, to be that change I want to see for tech, for the way products are built and designed. And sure, I can inform a lot of decisions, especially in data-driven organizations, but I know I will really itch for getting my hands dirty and building things from scratch.
Then there is the design. Honestly this is where I contradict myself a bit. I am no good at producing design, period. This is a classic case where my taste far exceeds my ability to execute. I love and appreciate good design, so much that I fully recognize I won't be great making design my career.
Finally this leaves us engineering. I never imagined engineering to be my first real job. I had many misconceptions. In undergrad in China, people openly say that girls won't be good at it. In grad school, engineering somehow is perceived as inferior to research. This is especially true for internships. Your advisor may encourage you to take a research internship, but maybe not necessarily a pure engineering internship where you just implement stuff. But when I pause and visualize five years down the road, engineering gives me a HUGE amount of freedom. I can continue to do research on the side and apply that in the products I build. I can decide to build something else. I can probably lead a team and build something that changes the world in certain ways. There are also many unknowns and possibilities that can open up down the road, such as product management, investing, etc. I don't know for sure, which makes it the most exciting.
I will be honest. The first six months was tough. Coming to engineering from research is such a humbling experience. Last moment I was an expert on a (albeit) niche field. The next moment I was this dumb person who knows nothing and someone way younger than me has to teach me everything. That's for a separate post though. But now close to a year on the job, I feel great. There are enough challenges and unknowns ahead and I feel very excited to learn and grow.
Hopefully this is helpful for you. I know these are tough times but please trust yourself. Good luck and let me know which hat you end up choosing. I hope you find the best one — or even better, find ways to not having to choose and continuing wearing them all.